Cambridgeport Parent Teacher Organization (CPTO)
Who are we?
We are YOU. The Cambridgeport Parent Teacher Organization (CPTO) is an open membership of caregiver volunteers working together to support our children, families, and teachers through events and fundraising initiatives to benefit the entire Cambridgeport School.
Here is a short slideshow about all that the PTO does: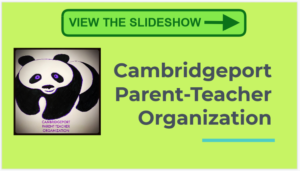 There are so many ways to get involved and be a part of this incredible community. Whether baking for a baking sale, picking up a paintbrush or volunteering in the classroom, your participation makes us stronger. If you are interested in volunteering, please complete this survey so we can better match your interests with volunteer opportunities.
CPORT Student Coloring Books are Still Available for Sale
If you haven't purchased one yet, we still have coloring books available. Such a fabulous collection of student artwork from 48 CPORT students. A huge thank you to all the fantastic student artists who contributed!! Perfect activity for the winter months ahead…
PURCHASE COLORING BOOK ONLINE
Join Our Next Monthly CPTO Meeting!
Our families and teachers benefit most from a broad range of perspectives from our community, so we welcome your participation and input! Please email officers@cambridgeportpto.org with questions or agenda ideas.
What We've Been Doing Lately
Check out our Facebook feed below and follow us at our Facebook page! Read our recent newsletters and make sure to subscribe!