Cambridgeport PTO (CPTO)
Who are we?
We are YOU. The Cambridgeport Parent Teacher Organization (CPTO) is an open membership of caregiver volunteers working together to support our children, families, and teachers through events and fundraising initiatives to benefit the entire Cambridgeport School.
Save the CPTO this 2021-2022 School Year! Slideshow!
Whether you're new or if you've been at Cambridgeport for years, you may be surprised to learn how many important things the CPTO does. Click below to learn all about it and what we need for help this year!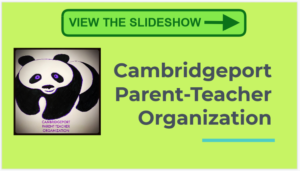 Zoom Meeting to Save the CPTO: Tuesday, October 5, 2021 at 6pm
Click here for Zoom Meeting Link
Our families and teachers benefit most from a broad range of perspectives from our community, so we welcome your participation and input!
Please email officers@cambridgeportpto.org with questions or agenda ideas.
Current Fundraiser