Donate Here
Thank you for supporting the Cambridgeport School. We typically raise and spend about $25,000 per year. Your donation contributes in so many ways.
Make a Donation
How the CPTO uses your donations: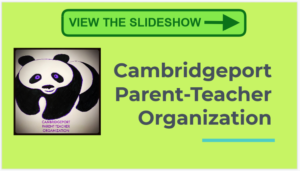 We provide every teacher with an annual classroom grant for use on supplies, resources, and activities to enhance curriculum for their students. Additional CPTO grants are available by application.
We subsidize field trip costs for all grades, to ensure financial hardship does not stop students from important learning activities, ensuring equal opportunity and access.


We host FREE academic and community building events that are open for all families, including Spaghetti Dinner / Math Night and many more events.

We provide teacher and staff appreciation gifts and meals.
We assist C-port families facing food insecurity anonymously via the school family liaison.
And so much more….
We are an IRS-approved non-profit organization, classified as a public charity. Contributions are tax-deductible. Our federal tax id number is 04-3286462.
Make checks payable to Cambridgeport Parent Teacher Organization and mail to the school (89 Elm Street, Cambridge, MA 02139) or drop your donation in the CPTO mailbox in the main office.
You may wish to check and see if your place of employment does charitable matching!